Husky Names – Finding a perfect name for your Siberian Husky is not easy. We have made this Husky dog names list so you can get an idea how to call your new Husky.
Remember the excitement that goes into finding a name and naming your child.
The same excitement should go into naming your Husky pup as the new addition is going to be a member of your family for the next 14 to 15 years.
There are so many breeds but still each dog has an unique character and behavior.
So isn't it natural that you should think of unique Husky dog names too for your Siberian Husky?
Best Husky Names
| Male | Female |
| --- | --- |
| Neo | Astra |
| Ulf | Nikita |
| Saber | Aurora |
| Wolf | Oreo |
| Connor | Shila |
| Snow | Xena |
| Polar | Hera |
| Winter | Sky |
| Logan | Alyx |
| Alpha | Zala |
You can find thousands of Siberian Husky names listed on the internet.
However, the name you give to your Husky should be such that it echos a relationship between you and your dog.
The name is what helps the outside world recognize this relationship.
Husky Names Links:
You can use the links below to jump to different sections in this article for easier navigation.
Finding unique dog names is not easy, especially for Huskies.
Consider it as a perfect occasion for the whole family to get together to discuss and suggest a name for your Husky.
Children can sometimes come out with a name that is unique and funny.
Here are a few guidelines that should be of help in your naming effort.
Choose a name that your Siberian Husky can easily recognize.
The name should not confuse with one of the basic dog commands like sit, stand, stay, down or come.
Dog trainers and experts suggest short names as dogs seem to respond better to short names; it is also easy to shout names that have only one or two syllables.
If you are having more than one dog, select a name that starts with different alphabets and sounds different.
Siberian Husky Names
When looking for the best Husky names, keep in mind that Huskies are friendly, gentle, intelligent, tractable, yet alert and outgoing.
Here are some good Husky names.
Husky Dog Names Male
Most popular male Husky dog names.
Alpha – this is the first letter of Greek alphabet and the word that denotes the first of anything.
Ivan – The most popular Russian human name.
Baikal – A huge lake in Siberia. The world's deepest freshwater lake.
Kremlin – The historic fortress complex in Moscow (Russia) containing government offices and museums. Your male Siberian Husky dog would like this name.
Rasputin – A Siberian mystic who helped bring about the downfall of the Russian empire.
Neo – Excellent English name for a boy puppy. The meaning is "new". This name became very popular after the movie "Matrix". All dogs love this name.
Rudy or Rudolph – German male name means "famous wolf".
Ulf – male Danish or Swedish names means "wolf". A dog that resembles his wild cousins.
Ulfred, Ulger, Ullock, Ulric – those name have the same root "Ulf" which is wolf. Their meanings are: peaceful wolf, warring wolf, sporting wolf, and a wolf that rules.
Walter – Male German name means "ruler of the army". The short version of this name is Walt. Your Siberian Husky will love this name.
Zorro – this name doesn't need any special introduction. Everybody knows the masked hero of the famous movie.
Husky Dog Names Boys
If you are getting ready to welcome a boy Husky into your home, the task on top of your mind would be to choose a name for the newest member of your family.
Some cool boy Husky dog names to choose from:
Ash
Conan
Connor
Constantine
Cyrus
Duma
Eko
Ender
Emmett
Egon
Flash
Oreo
Grimm
Hannibal
Hobbes
Ice
Judge
Kal
Logan
Magnus
Nemo
Roland
Saber
Severian
Tesla
Vigo
Wallace
Weyland
Willow
Wolf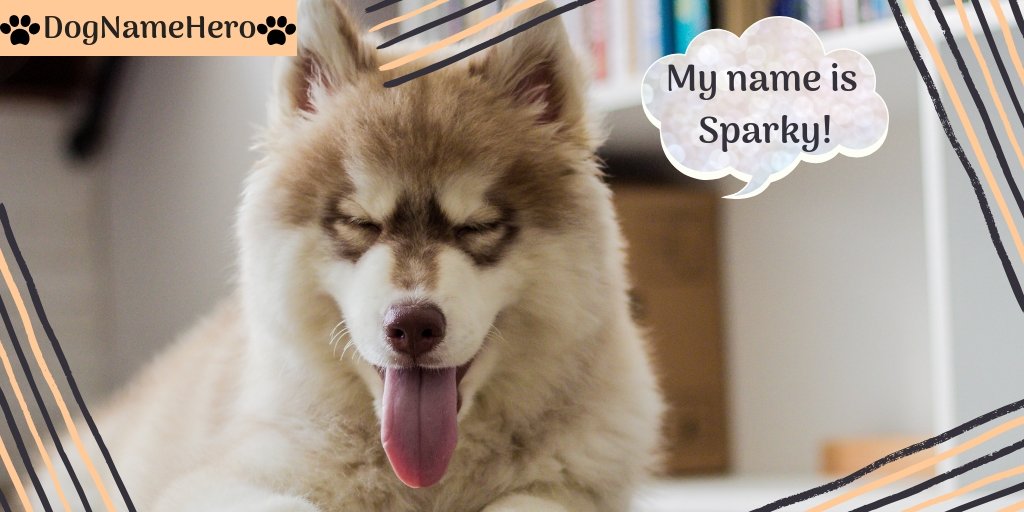 Female Husky Names
Here is a short list of the best female Husky dog names.
Astra – Beautifu female name means "star".
Ada – Short form of Adelaide. Popular German girl name means "kind". It matches the Siberian Husky character very well.
Anna or Hannah – from Hebrew name Channah which means "favor" or "grace".
Alice – This German female name mean "nobility".
Aurora – In Roman mythology she is goddess of the dawn. The dog with such name will wake you up in the morning.
Babushka – Russian – Grandmother. Good name for slow but wise dog.
Ladoga – A large Russian lake that lies close to the Finnish border. Very nice female name excellent choice for Siberian Husky.
Natalie – This female name is very popular in European countries with slight variations. It's Natasha in Russian, Natanaele in Italian, Natalka in Ukrainian.
Nadia – Full of hope.
Nastassia – Birthday
Nikita – A wonderful Russian name for your Siberian Husky boy or girl. Just make sure you pronounce it right. If it's a girl, put stress on the last syllable, otherwise stress the middle syllable.
Pamela – Good name for a female Husky. In Greek it means "honey".
Serena – From the Latin "serenus" meaning calm and serene. In Russian "serena" means "siren". This name matches the temper of the Siberian Husky perfectly.
Sonya – This is a Russian abbreviation of the name Sofya meaning "wisdom". Russian word "sonya" also means someone who likes to sleep. Does this describe your Husky puppy?
Tania – Queen of the fairies.
Terra – Beatiful female name means "land" in Latin.
Zala – Slovenian female name means "beautiful". and that's what people say when they see Siberian Husky dog.
Vicki – Pet form of Victoria. Names Victor and Victoria are very powerful and popular all over the world.
Zaria – Means "dawn" in Russian. Excellent name for a girl Siberian Husky especially if it wakes you up in the morning.
Girl Husky Names
You would naturally turn to a list of best girl Husky dog names.
Half a century ago, names that described a dog's traits used to be popular.
Spotty and Dusty were common names then.
But today's dogs are increasingly being named with human names.
Alyx
Carmen
Chihiro
Coraline
Cosette
Domino
Hera
Jade
Oreo
Marion
Matilda
Mina
Pandora
Sabine
Saoirse
Seven
Sky
Talia
Trillian
Willow
Xena
Zelda
Winter and Christmas Husky Dog Names
Since Husky is from a cold area, here are some cold winter and Christmas Husky dog names.
Alaska
Glacier
North
Snow
Iceberg
Ice
Crystal
January
Frostine
Dancer
Prancer
Polar
Frost
Rudolf
Jingle
Bell
Santa
Frosty
Elf
Reindeer
Mary
Joseph
Snow
John
Stable
Grinch
Nick
Nicolas
Winter
Blitzen
Jack
Eskimo – Inuit Husky Names
Alaskan names sound awesome and are perfect husky dog names. Here are Alaskan dog names, Inuit and Eskimo words that could be used as a great name for a husky or an Alaskan malamute.
Akiak – The Other Side Or Old Village
Amaguq – Wolf God
Amarok – giant wolf from Inuit mythology
Aput – Snow
Ataneq – King
Buniq – Sweet Daughter
Chu – Beaver
Cikuq – Ice
Desna – Chief
Hey – Winter
Issumatar – Superior
Kaskae – Chief
Maguyuk – Howler
Makoktok – Young
Miki – Little
Nanook – Cute Or Kinda
Nanuk – Polar Bear
Nigaq – Rainbow
Nini – Porcupine
Nukka – Little Sister
Pikatti – Companion
Quannik – Snowflake
Saghani – Raven
Sakari – Sweet
Sesi – Snow
Shila – Flame
Sos – Bear
Suka – Fast
Suluk – Feather
Tartok – Dark
Torngasak – Good Spirit
Tungulria – Black One
Ulva – Wolf
Badass Husky Names
For fierce and strong Huskies, here are some badass Husky names.
Fury
Steel
Kraken
Mace
Bruise
Brute
Brutus
Cobra
Mad Dog
Colt
Doom
Trooper
Titan
Hurricane
Breaker
Balrog
Cerberus
Cyclops
Terminator
Thor
Cyrus
Crusher
Chainsaw
We have a lot more badass dog names to offer – read the Tough Dog Names article https://www.dognamehero.com/tough-dog-names/
Black Husky Names
Black Huskies are special, so the name should special as well. Here are black husky names ideas:
Ash
Black
Blackie
Dark
Blackbeard
Blackjack
Midnight
Night
Pepper
Morticia
Inky
Raven
Coal
Pitch
Bunette
There are many more black dog names to choose from. Check out our Names For Black Dogs article.
White Husky Names
White Huskies are so mystical, almost like wolves. Here are white Husky names that are just whiteish.
Snowy
Frosty
Ivory
Milky
Bleache
White
Chalk
Bolt
Blizzard
Icemaiden
Snow White
Sugar
Salty
Polar
Dove
For more dog names for white dogs please read our White Dog Names article.
Husky Dog Names With Blue Eyes
Husky with one blue eye is unique and a Husky with both blue eyes is beautiful. These huskies need a beautiful name that will resemble their deep blue eyes, hopefully these names will help.
Blue
Sea
Blues
Sky
Glacier
Lightning
Neptune
Ocean
Poseidon
Blueberry
Electra
Aqua
Unique Husky Dog Names
Here are unique names for husky dogs that are suitable for girl and boy huskies.
Doodlebug
Smudge
Flea
Crapper
Button
Cat
Sigma
Jelly Bean
Chops
Bacon
Chuckles
Neechie
Android
Ammo
Lipstick
Wacky
Venus
Fish Sticks
Bubbles
Georgina
Babushka
Fidget
Chip
Taffy
Slimy
Master Chief
Saucy
Kiki
Jupiter
Sweetpea
Jinx
Okra
Sugar
Husky Dog Names Video
Interesting Facts About Siberian Husky
Siberian Huskies are one of the popular breeds of dogs because of their wolf-like appearance, and their popularity is growing each day.
They have been featured in many films and TV series and are well known to be excellent sled dogs.
Due to their fame, many people think that they have a concrete idea of what these dogs are but there are a lot of misconceptions about them.
Here are five facts that contradict popular beliefs about the Siberian Husky:
Despite their appearance, Siberian Huskies are not half wolf or a crossbreed of wolves.
They actually are pure bred dogs for several centuries that belong to the Spitz group and have many physical similarities to the Alaskan Malamute.
Siberian Huskies are NOT guard dogs
Intimidating and fierce in the outside but lovable in the inside, that is how to describe the Siberian Huskie's personality.
They are extremely friendly dogs that even attempt to lick strangers rather than scare them away.
They are not also known to be a one-master dog so loyalty is out of the picture.
Huskies are NOT barkers
Numerous online videos feature the Siberian Husky appear to be "talking" and are capable of this because they rarely bark.
Instead, they prefer making howling, yodeling, and wooing noises especially when being played with.
Husky is NOT heat sensitive
In spite of their origin and name, Siberian Huskies can withstand heat.
This is because their unique double coats prevent heat and cold from penetrating to the skin making them adapt well to extreme temperature and climate.
Siberian Husky do NOT smell
Surprisingly, Siberian Huskies have little or no dog odors unlike other breeds.
They require minimal effort in terms of bathing and grooming. The only disadvantage of this breed is that they are not keen in keeping their area clean and occasionally shed huge amounts of hair.
Still searching for a name?
Haven't find your favorite Husky dog name.
If you have cool, interesting Husky names that we haven't included in our post, please don't hesitate to say what's on your mind using the comment form below.
We would love to hear your voice.
Husky Names Infographic
This is our fun Husky dog names infographic.
If you like it and would like to post it on your website feel free to do so, we just ask to link back to www.dognamehero.com.